This rant is directed toward all of you who are still purchasing movies on video which have been reformatted to fit your TV screen. Chances are, you don't even realize what you're missing, so Mr. Hook is here to educate you about Letterboxing.

Most movies shot on film which have been transferred to video have been drastically altered. In fact, most videos you're likely to rent or purchace will flat out tell you before the opening credits roll that the film has been "formatted to fit your screen." Depending on what type of cameras were used during filming, this could mean that the video tape displays only half the imagery contained in the original film. If the film was shot in Panivision (like the Star Wars Trilogy, for instance), or Super 35, the aspect ratio of the image projected on the screen at your local theater will be much more rectangular than the relatively square aspect ratio of your TV screen.
| | |
| --- | --- |
| REFORMATTED | LETTERBOXED |
This is why some videos come in a "Letterboxed" or "Widescreen" format. This format puts a strip of black space at the top and bottom of the screen while leaving the original aspect ratio of the film intact. Now, here's the clincher, so pay attention. Many people object to Letterboxing, complaining that the picture appears smaller on their TV screens. If you are one of these people, I want you to read this next sentence very carefully so you can wrap the whole concept of Letterboxing around your tiny little mind. Even though the picture appears smaller on your screen, you are actually seeing MORE of the picture!
FOR EXAMPLE: If you go to your local video rental store and check out a copy of THE EMPIRE STRIKES BACK, watch carefully as Darth Vader briefs his motley crew of bounty hunters. This scene takes place on the bridge of Vader's ship and it marks the first appearance of everyone's favorite knight in dented armor, Bobba Fett. Now, when Vader shakes his finger at Fett and warns, "No disintegrations," where is the tall robot standing next to Bobba Fett?
WHY SETTLE FOR ONLY HALF THE PICURE?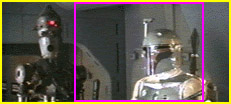 WHEN YOU CAN HAVE THE WHOLE THING!

Well, if your copy of THE EMPIRE STRIKES BACK is NOT Letterboxed, you wouldn't even know the robot was there. Why not? Because when the video production company reformatted the film to fit your TV screen, it chopped off almost HALF the picture! Just think, after the film has been reformatted, you're really only seeing HALF the movie!

On a more editorial note, not all movies really require a Letterboxed version. For instance, I own a copy of THE FUGITIVE on video which has been reformatted to fit my screen, and that's OK, I'm probably not missing much. But reformatting does a great disservice to certain films which should be seen in a widescreen format or not at all. To show you the kind of films I'm talking about, I've compiled a little list.

MOVIES WHICH SHOULD BE SEEN LETTERBOXED OR NOT AT ALL:

The STAR WARS Trilogy (of course)
12 MONKEYS
2001: A SPACE ODDYSSEY
THE ABYSS
BLADE RUNNER
BRAVEHEART
INDEPENDENCE DAY
TERMINATOR 2

It's films like these that rely heavily on visual effects to tell their stories that cry out for widescreen viewing. Anything less would be uncivilized. Never-the-less, the black "boxes" at the top and bottom of a Letterboxed screen evidently drive some people bonkers. I find that if you turn off the lights while watching TV, one soon forgets that the blocks of black are even there. But this can depend on the size of your TV or how close you choose to sit in front of it. If you are interested in a more thorough discussion of the pros and cons of Letterboxing, you might want to visit this Widescreen Advocacy website.