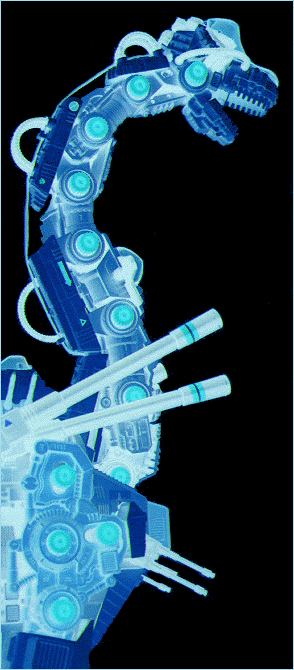 Mr. Hook was dismayed by the scarcity of ZOIDS resources on the web (as of May 2000), so he has taken matters into his own hands and posted up an online gallery of his ZOIDS collection. It all started when Mr. Hook recieved a small ZOIDS kit from his Aunt Linda for his 11th birthday. From that day forward he was, well...hooked (if you'll pardon the expression). Follow the links above to explore Mr. Hook's meager collection of ultra-cool Japanese toys (honestly, if you've never seen this sort of stuff before, you don't know what you're missing!)
ZOIDS were originally a line of Japanese "motorized" model kits released in the U.S. by TOMY during the early eighties. Although they were model kits, they required no glue and instead utilized numerous rubber "caps" to hold the models together. The skeletal structures were initially modeled to resemble various dinosaurs and insects. All of them were motorized in some fashion, from small wind up toys to fairly large battery operated robotic vehicles.
ROBOSTRUX were essentially ZOIDS which were rereleased in the U.S. during the late eighties only with cool names and better color schemes. There were more types of ROBOSTRUX available in the U.S. than the original ZOIDS series (at least where I lived).
TECHNO ZOIDS were released for the first time in the U.S. in the early nineties. Again, TECHNO ZOIDS were basically repackaged Japanese model kits only this time with goofy names and garish color schemes.
STARRIORS were sort of a watered down version of ZOIDS in the mid eighties which had wind up mechanisms protruding from their chests. Aimed at a younger demographic and more action-figure oriented, STARRIORS even had their own comic book series.
Mr. Hook also stumbled across a collection of "COSMIC FORMERS" which were released by Multimac in the mid nineties. Sort of cross between STARRIORS and Legos, the Cosmic Former series comprised five boxes of interchangable parts, some of which were clearly borrowed (or ripped off) from old ZOIDS and STARRIORS molds. You can find pics of the Cosmic Former series in the OTHER TOYS section.
As of January 2002, two different ZOIDS anime series have been completed. The first series, called ZOIDS "Chaotic Century," originally aired in Japan during 1999-2000. The second season of this series was called ZOIDS "Guardian Force," but involved pretty much the same characters and settings as "Chaotic Century." The second series was called ZOIDS "New Century / 0" and apparently takes place on the same planet as the first series, but the story structure revolves around ZOIDS tournaments and features a new cast of characters. You will find complete episode lists of both series on the INFO page.