Fanfic Art: Bugs




Todd Wilks Mutation
submitted by Mr. Hook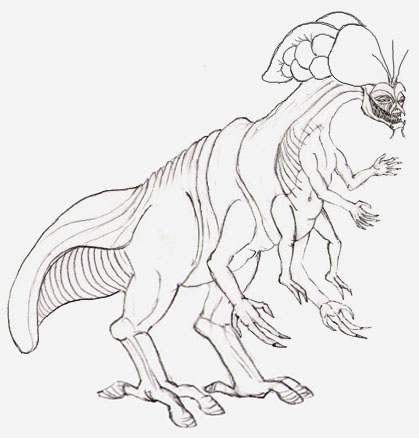 Freeman Bug - Final Transformation
submitted by Mr. Hook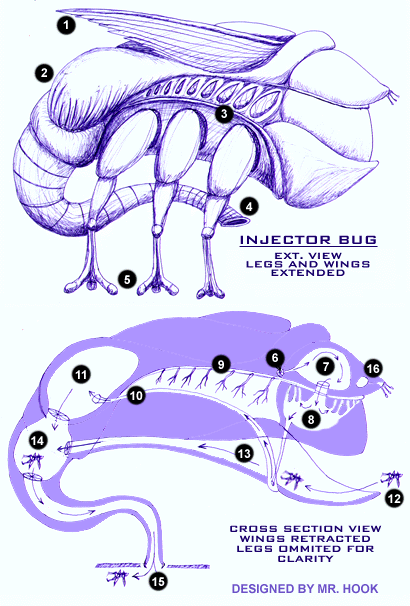 S.I.C.O.N. DESIGNATION: INJECTOR BUG
HAZARD ASSESSMENT: SHIP TO SHIP BOARDING PARTY DEPLOYMENT

(1) RETRACTABLE WINGS act as maneuvering thrusters within planetary atmospheres, also collect solar energy when exposed to the vacuum of space.
(2) BELLOWS for expelling passengers, see (11).
(3) EXHAUST NODULES are similar in function to the exhaust ports found on Transport Bugs.
(4) INJECTOR ORGAN is tipped with a ring-like orifice lined with razor sharp teeth. Orifice secretes digestive juices which can easily eat through a ship's hull.
(5) PALPS can emit electromagnetic pulses. Originally engineered (genetically) to stun and immobilize it's prey, palps can now be used to magnetize the bug to the surface of any ship with a metallic hull.
(6) WATER INTAKE ORIFICE
(7) WATER RECYCLING CHAMBER
(8) LUNGS act as a water filtration system, dividing the water molecules into hydrogen and oxygen. Hydrogen is pumped up to the main fuel ventricle (9) while oxygen is pumped downward to the main air ventricle (10).
(9) MAIN FUEL VENTRICLE pumps hydrogen through a complex network of veins until it is held in reserve by the exhaust nodules (3).
(10) MAIN AIR VENTRICLE distributes oxygen to the bellows (2).
(11) AIR BLADDERS (BELLOWS) store up air until the bellows voluntarily contract to expel the contents of the stomach (14).
(12) MOUTH CAVITY where Warrior Bugs (or passengers of relative size) can be loaded into the large ramp-like opening.
(13) ESOPHAGUS where the passengers are "swallowed" and deposited in the "stomach."
(14) STOMACH where passengers are held until they are expelled by the bellows. Average-sized Injector Bug can hold dozens of passengers at a time. Warrior Bugs can last up to five days inside the stomach before starving to death or being digested.
(15) EXCRETORY GOO lining the walls of the injector organ is also expelled. This green slime serves to plug the hole left behind after the injector organ (4) detaches. This minimizes the risk of the bug boarding party being sucked back out into the vacuum of space.
(16) BRAIN NODE connected to external antennae in order to pick up on the brain waves telepathically generated by Brain Bugs.
submitted by Mr. Hook